South Park, San Francisco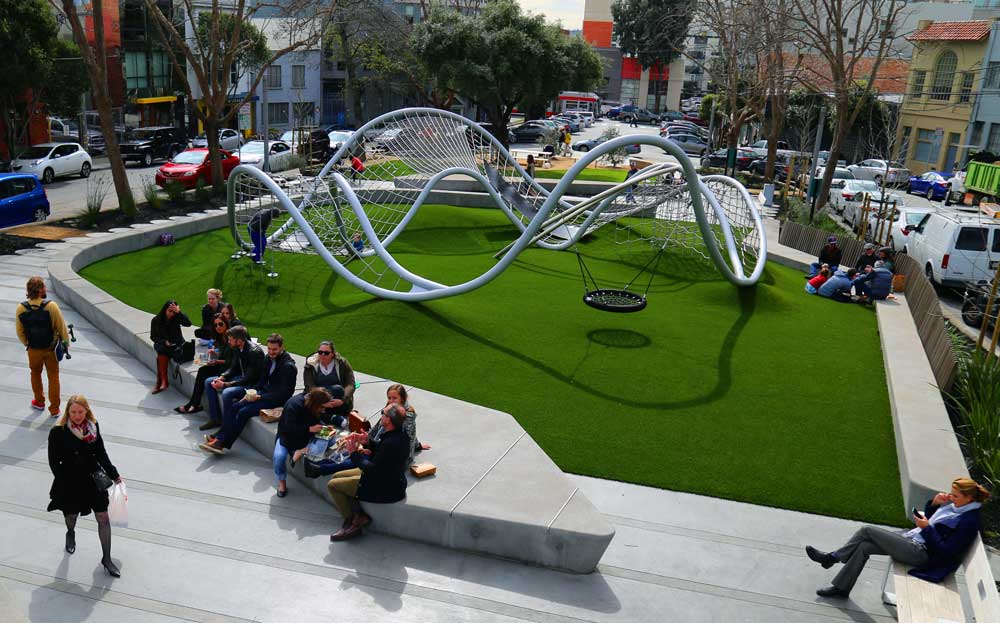 South Park, San Francisco's oldest public park, is a unique and historical area. The park, modeled after an English strolling park, was originally built as the centerpiece of this exclusive neighborhood. Years of activity, however, took their toll and the park fell into disrepair.
The Recreation Park Department, South Park Improvement Association, park neighbors and community leaders wanted to restore it to its original glory. Fletcher Studio Landscape Architecture, an award-winning landscape architecture firm, was commissioned to develop a master plan for the park, bringing the revitalized vision to reality. The new design can be described as a contemporary interpretation of the English strolling garden.
The project entailed upgrading the park's infrastructure, including new paths, irrigation, drainage, site lighting, landscaping, swooping meadows and a new stage area for performances.
One striking addition: a custom universal play area with undulating forms both in structure and in the mounded surface. This flowing contemporary design by Fletcher and the 100% custom designed structure by Berliner makes it a truly one-of-a-kind design, one that has never been done before!
David Yosso, President of Specified Play Equipment Company and Berliner's exclusive representative for Northern California, calls the South Park design a "sculptural, playful art piece designed for all ages and imaginations."