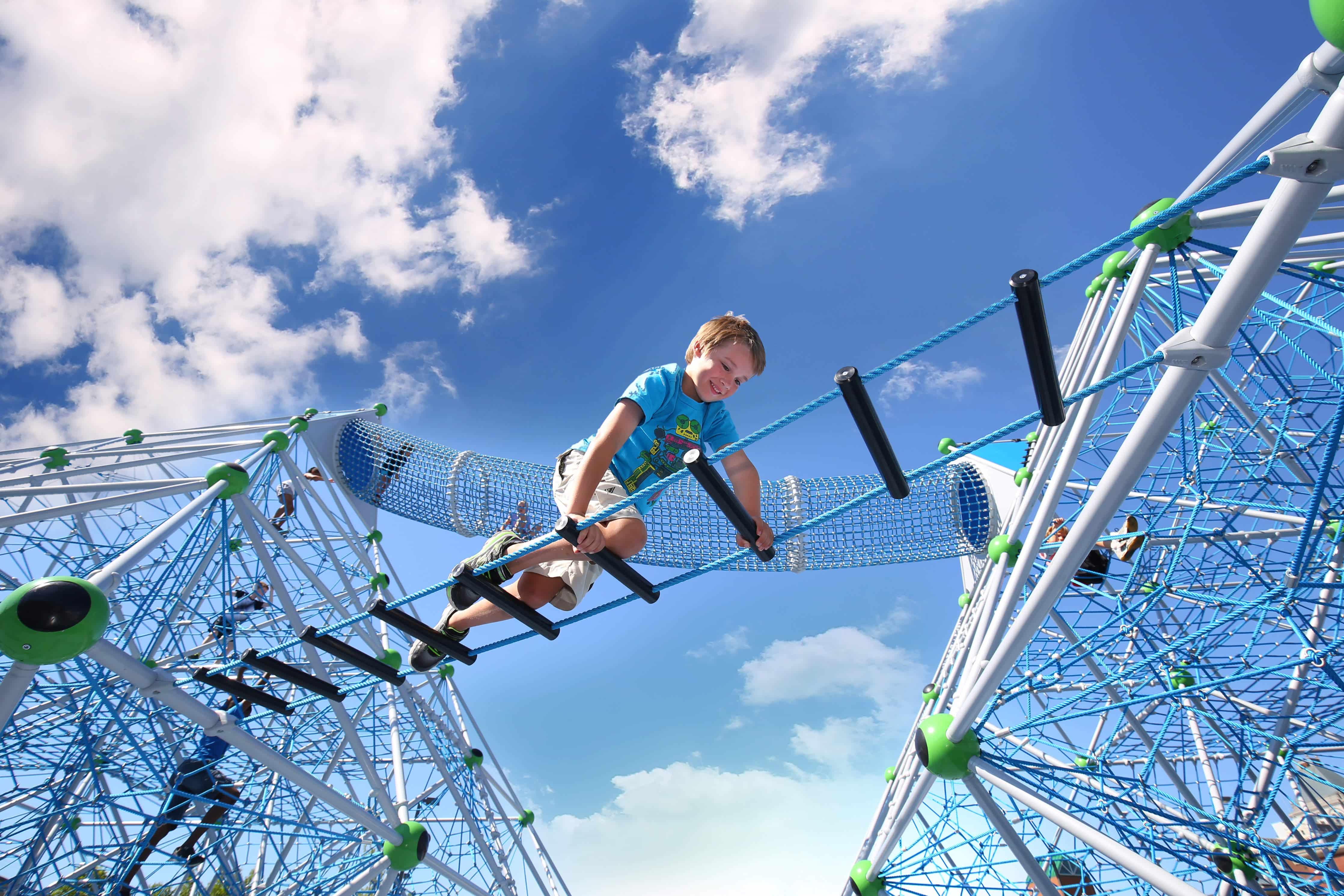 Amuse­ment parks
Indi­vidu­al theme worlds, adven­ture play­grounds and climb­ing land­scapes for your amuse­ment park.
Wheth­er in breath­tak­ing heights, in magic­al theme worlds or at a styl­ish indoor play­ground – we turn your guests' vis­it into a climb­ing exper­i­ence. Be it as a coun­ter­bal­ance to a roller­coast­er ride in an amuse­ment park, as a theme world in a fam­ily park, jungle play­ground in the zoo or as an indoor high­light of your hol­i­day park – speak to us about your ideas. We will help you make it a real­ity.
Our Ber­liner Cre­at­ive Cen­ter, made up of archi­tects, design­ers, land­scape plan­ners and engin­eers is cap­able of cre­at­ing unique climb­ing land­scapes for your theme or amuse­ment park. Thanks to the mod­u­lar sys­tem of our devices, there are end­less ways to com­bine these. A wide range of attach­ment ele­ments such as net tun­nels, wobbly bridges, rap­id tube slides or HDPE pan­els in indi­vidu­al themes make the climb­ing worlds some­thing very spe­cial.
Theme worlds and adven­tur­ous play­grounds made of rope play­ground equip­ment motiv­ate kids to exer­cise phys­ic­ally. They are thus a great sup­ple­ment to the elec­tric rides in theme parks or a long walk in the zoo.
You can find a selec­tion of large imple­men­ted pro­jects in the amuse­ment park industry. Let your­self be inspired!